Hospital
Constructing and Operating a 540-bed training pediatric hospital based on pediatric subspecialized surgeries with a Pediatric Rehabitation Center, Pediatric Trauma Center and a Research Center with an Accommodation Facility Close to the Hospital

Project's location
Beside Javadieh bridge, Towards Rah Ahan Square, Hagh Shenas square, end of Navvab street
Necessity of the Project
Children are the most valuable member of each society. According to the records released by Health world Organization, 3% of the children around the world are born with congenital disorders, which cause 20% of the mortality rate at the early stage of their life. Twenty one percent of these children with congenital disorders need to go under operation within the first year of their life, otherwise they will face serious defects on their daily activities.
According to the ministry of Health records, there are not enough hospital space and bed across the country and there is currently a need for 105,000 beds to accommodate these children in need of extensive surgery. It is reported that it will take around 40 years for the governmental organizations to achieve this goal without asking for any help from the private sectors.
Although many hospitals have been established recently but there are not many children's units available across the country. Thus, children's vulnerable situations within the society makes the construction of the children hospital with an extended bed number, a priority within the country. However, there is also an extensive need for general practitioner and pediatrician to be provided for these hospitals.
In order to overcome the aforementioned problems, Zanjireh Omid (Chain of Hope) has established a major project for establishing a large children hospital with modern and up to date facilities and with many experienced specialists in Tehran.
This is known of one of the major role of Zanjireh Omid (Chain of Hope) institute in addition to considering all children's need and accommodating their mothers during operations.
Lack of pediatric subspecialists in Iran is a very important key which emphasizes the need for establishing a medical and training center. Besides the healthcare service this hospital can provide fellowship courses in different pediatric fields. Because of the number of the beds and focusing on subspecial surgeries, this hospital will be a referral pediatric hospital.

Project's Goals
1. Offering best services with the least cost for hospitalization according to international standards for deprived children.
2. Reducing the neonate's mortality rate by using high standard equipment and adopting modern facilities within the hospital and preparing a suitable hospital space.
3. Expansion of neonate's hospital beds in the presence of the shortage of beds and with accord to population growth.
4. Holding short term educational courses for specialist and medical staff each month through inviting international experienced medical teams
5. Holding long term educational courses for specialist via sending Iranian doctors, who are the member of Zanjireh Omid (Chain of Hope), to France in order to gain more experience in their field of expertise.
6. Reducing children's mortality rate by the prompt accessibility of the patients to medical teams and convenient treatments within the hospital and by offering substantial services pre- and post- surgery.
7. Reducing post-surgeries children's disabilities as a result of their prompt treatment by experienced medical teams and subspecialist with accordance to children's protocols.
8. Preparation of the post-surgery complementary treatments, e.g. rehabilitation in all aforementioned branches.
9. Treatment of all children with complicated diseases with in the country rather than sending them abroad and preparation of all necessary facilities within the country through Zanjireh Omid (Chain of Hope) organization.
10. Reducing the delay in patient's surgery, which results in having less post-surgical adverse side effects.
11. Reducing post-surgical infection by having high standard hospital facilities, whether it is highly educated staff or up to date and modern equipment.
12. Training subspecialist fellowship in pediatric suregeries in order to promote the Pedatric Medicine in the country
Project's beneficiaries
1. Children from underprivileged background supported by Zanjireh Omid: They cannot afford the expenses and sponsors pay the treatment expenses.
2. Children with average background: This category of children can afford to pay for their medical expenses according to the public tariff and our mission will be to provide them with the best possible medical services.
3. Children from privileged background: The medical services offered for the patient will be the same but since the surgical operations offered by the hospital are unique then the patients who can afford to pay for all the expenses of their treatment will be hospitalized in wards with some specific facilities.

Active Committees in this Project
(I) Scientific and training committee
As there is the shortage of the pediatric specialized doctors and also the shortage of beds for the children in hospitals across the country, governmental education and training hospitals have been established to address this problem.
Further to organizing medical treatment for under-privileged children, Zanjireh Omid (Chain of Hope) institute has also been involved in short- and long-term training of its medical teams since early days of its establishments.
In addition, Zanjireh Omid (Chain of Hope) institute has a close releatioship with Chaîne de ł Espoir France (Chain of hope), which allows to further train the young qualified fellows for high quality pediatric specialization.
Thus, the role scientific committee of Zanjireh Omid (Chain of Hope) institute is to facilitate training of young highly qualified doctors according to the health service requirements in Iran, whom will be at service as soon as the opening of this pediatric hospital in Tehran.
⦁ Scientific Committee responsibilities:
1. Lowering the cost by reducing the number of the invitation of highly qualified international medical teams through Chaîne de ł Espoir France (Chain of hope) for scientific lectures, consultation and surgeries, by providing the best condition for patients care through short-term training of medical staff within the country.
2. To be as selective as possible in choosing the specialist that will be at service in pediatric hospital according to the following three parameters:
(i) Specialized pediatric fellows or an interest to the pediatric field of study in order to be trained by Zanjireh Omid (Chain of Hope) organization.
(ii) Doctors must be flexible in trainings (accept all medical trainings related to medical affairs and medical ethics)
(iii) They have to be responsible and committed to their work (Responsible for patients and responsible for hospital's medical ethics).
3. Evaluate country's needs for specialized fields of doctors in order to choose young
doctors to be trained for suitable fellowships in subspecilazed pediatrics.
4. Choose among doctors and medical staff, who are already working as pediatric specialized, and in our organization and as observers.
5. Committee evaluates all projects that are necessary for expanding medical treatments in order to improve and keep the hospital's performances up to the international high standards level.
6. Providing high quality hospital service and up to international high standard levels by training all nurses, paramedics and medical staff in and outside country at all times.

(II) Technical and equipment management committee
As the technology develops on the daily basis, thus it is very important to keep all the hospital's equipment and facilities up to international high standard levels.
Consequently, a technical committee will be allocated for the aforementioned purpose and this committee has to possess very close interrelation and cooperation with the scientific committee in order to achieve the desired results within the hospital.
⦁ Technical and equipment committee responsibilities:
1. Training the member of staff for proper and correct use of all the machines and equipment within the hospital in order to minimize the damage to these facilities and extend their life.
2. Keeping close connections with the technical services of the companies for all the equipment with in the hospital in order to provide them with guarantee and essential services and training of the right use of machines.
3. Evaluate and purchase necessary equipment for each project, which all need to be approved by scientific committee and president of Zanjireh Omid (Chain of Hope)
institute, prior to proceed to the last stage of purchasing the machine.

(III) Psychological and ethics committee
This committee will be operated by the deontological charter of Zanjireh Omid (Chain of Hope) institute.
All the doctors and paramedical staff will be regulated by this committee and trained in how to keep up with medical ethics. All employees must sign for deontological charter.
⦁ Psychological and ethics committee responsibilities:
1. Preparing weekly/monthly lectures and workshops on the topics related to medical ethics and psychological charter for the scientific board and medical staff in order to increase the quality of the treatments by the medical teams.
2. Assess Patient's complains with regard to all aspects of their treatments, whether it includes medical teams or hospital facilities in order to improve their general medical conditions.
3. Regulating and controlling all points of discussions that are raised between memberof medical staff in order to keep better harmony within the medical teams.
Project Specification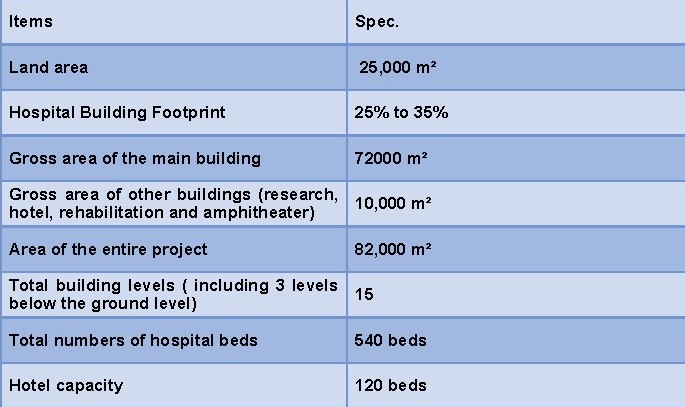 Costs of the projects:
Construction Cost: 75 Million Euros
Equipment Cost: 75 Million Euros
Estimated Costs of Investment and Time: 150 to 200 Million Euros
Estimated Cost per Square Meter: 1000 Euros
Estimated Cost per Bed: over 2000 Euros
Total Cost: 150 Million Euros
Construction Period: 52 Months


The Project Advisors
AP-HPI (Assistance Publique – Hôpitaux de Paris)
The Assistance publique – Hôpitaux de Paris (AP-HP) is the public hospital system of the city of Paris and its suburbs. It is the largest hospital system in Europe, which provides health care, teaching, research, prevention, education and emergency medical service in 52 branches of medicine. It employs more than 90,000 people (including 15,800 physicians) in 39 hospitals and receives more than 5.8 million annual patient visits. Zanjireh Omid signed an advisory contract with APHPI to carry out a feasibility study for the new pediatric hospital including medical staff, equipment etc. During a one year study, APHPI payed visits to different pediatric hospitals in Tehran and they attend at various meetings at Ministry of Health and with president of Tehran University of Medical Sciences. APHPI delivered a comprehensive feasibility study and a business plan together with a medical plan, which included all the information necessary for constructing, operating, equipping and running the hospital project. APHPI company also prepared the construction plans and the concept design of the project with the help of Tina Farayand engineering company.
In the next phase of the cooperation with APHPI, a 5-year contract was signed for a project ownership assistance for the construction of a pediatric hospital and the training of the human resources of the future hospital. During this five years, APHPI will provide technical assistance and project management for the project and they will also observe the equipping process room by room.
⦁
⦁ How to cooperate
⦁
All sponsors will be informed about all stages of project's progress and with accord to their cooperation they will be registered for each sections. The construction cost of the hospital is estimated at 1000 billion Rials. All sponsors including natural and legal of the project will be informed about the project's progress at each step and Zanjireh Omid will acknowledge the donations officially.
Melli Bank Account Number: 66666